OUTDOOR STORAGE AVAILABLE FOR:
RVs
Boats
Trailers
Cars
Truck
& Motorcycles,
PRICING: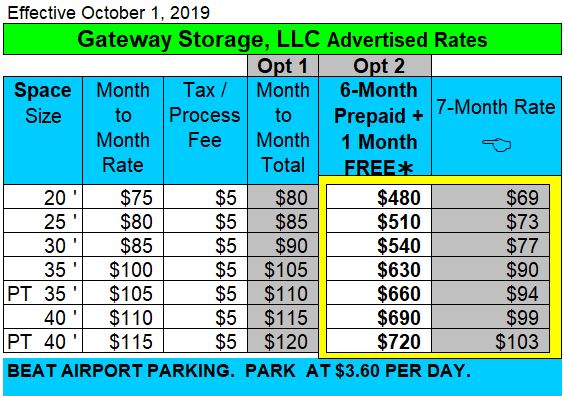 BENEFITS
Keypad Entry
Pull through options
Dusk till dawn lighting
Wide aisle and diagonal parking
Facility-wide compressed milled asphalt surface
Clear stripping and numbered spaces
365 days a year access
Storage access: Daily hours: 4:30am to 8:00pm
Additional access hours available with background check and $10.00 monthly fee.
Payment options: Cash, check, or credit card. We accept Visa, Mastercard, American Express and Discover
DISCOUNTS:
Disclaimer: discounts do not stack – max discount is 3%
Military Discount (with identification only) = 3%
Or multi-space Discount = 3%
$20.00 referral bonus, good any time of the year.
MINIMAL FEES:
One-time admin fee of $10.00, per executed lease
Small credit card processing fee of 3.5% +$0.15
Storage located at 4225 S. Power Road, Mesa, AZ 85212

Management office located at 6903 E. Parkway Norte, Mesa, AZ 85212

Office Hours: 9:00am to 5:00pm M-T, 9:00am to 4:00pm Friday.
For check in assistance: 480-777-7770